The conference is held under the auspices of the
Egyptian minister of CIT, His Excellence, Dr. Tarek Kamel
Accommodation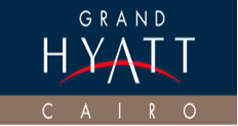 Grand Hyatt Cairo, Corniche El-Nil, PO Box 2288 - Garden City - Roda Island Cairo, Egypt.
Phone: (202) 2365 1234
Fax: (202) 2368 1555
E-mail: galal@hyatt.com or Fanselow@hyatt.com

A special rate of 125€ inclusive of all taxes and breakfast has been negotiated for the participants at the Grand Hyatt Cairo.

Please return the reservation form and the Credit Card Authorization Letter to the Grand Hyatt latest March 30, 2009 to secure your room. and send us a mail at medar@elda.org so that we can follow-up with the hotel.
Room rates:
Single Nile View Room: 125€
Double Nile View Room: 160€


Other hotels close to Grand Hyatt:
(with approx. distance to Grand Hyatt)