The conference is held under the auspices of the
Egyptian minister of CIT, His Excellence, Dr. Tarek Kamel
Local Information


Tours:
Tours in the Cairo area arranged by the Grand Hyatt Hotel.
For reservation please contact: Mr. Essam El-Bahy, Grand Hyatt's Concierge
Cellular: (+20-12222 90 48)
E-mail: Concierge.GHcairo@HyattIntl.com

See also tours arranged by Aton Travel



Taxi from Cairo Airport to Hotel Grand Hyatt:
The taxi drive should not cost more than 100EGP (appox. 13.5 Euro, 18 USD).
It takes 30 min. with light traffic (e.g. after mid. night) and may take up to 1:15 hr during rush hours!
Select a nice car, and tell your taxi driver that you want to go to "Garden-City/ Nile-Corniche" (in English) and that you want to go to Grand Hyatt hotel (previously being utilized by Le Meridien hotel).

Aton Travel arranges shuttles from the airport to the hotel if people arrive at the same time and want to organize group shuttle.
Contact is Mr. Hany Madkour from Aton Travel at H.Madkour@atontravel.com.eg



Map:
where Grand Hyatt hotel and Cairo University (where FCI-CU is neighbouring) are spotted
FCI-CU is close to the main campus of Cairo University but outside it.
It's adjacent to the famous Faculty of Applied Arts from one side and to the Czeck Republic embassy from the other side.
The exact address is 5 Ahmed Zeweil St., Dokki, 12613, Giza.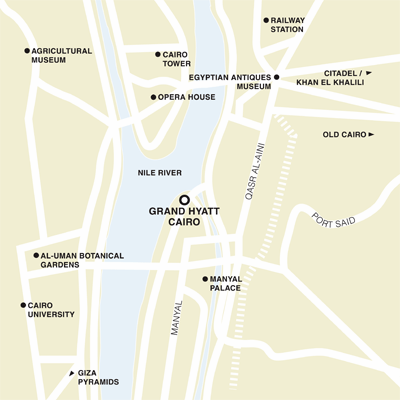 Visa to Egypt:
For visa to Egypt please follow this link to Cairo International Airport


Cairo weather:
according to msn weather